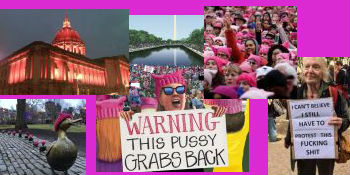 Top 25 Songs Honoring the Women's March of Saturday, January 21, 2017
Women and their supporters took the first steps of protest on Saturday, January 21, 2017 as marchers took to the streets in all fifty states in the U.S., and continued the line around the world. The numbers vary, though one look could see that the bodies in Washington, D.C. far outnumbered the rows and rows of empty seats for the inauguration on Friday Jan. 20. It can safely be said that the worldwide stats went well over the millions mark. The universal message was clear as marching feet and fists raised in defiance: the power of the people served the government notice….we are here and we are watching. Pink was the color of the day for hats as all races came together to take a stand.
The Alternate Root congratulates the marchers in the only way we know how…music. The Top 25 list of voices spans decades and is told in the voices of the women behind the songs. The list is a sampling, and the artist placement in no way shows any favoritism. Aretha Franklin opens the Top 25 list with "Respect" and closes out the chart in her duet with Annie Lennox for the Eurythmics track, "Sisters are Doin' It for Themselves". Between the borders, the songs of the soundtrack come from Americana, Soul, Folk, Rock'n'Roll, and Blues. The music backs the message of resistance and we are happy to offer a place in the magazine today and every day to anyone standing up for a cause.
CLICK HERE TO SEE THE FULL LIST!